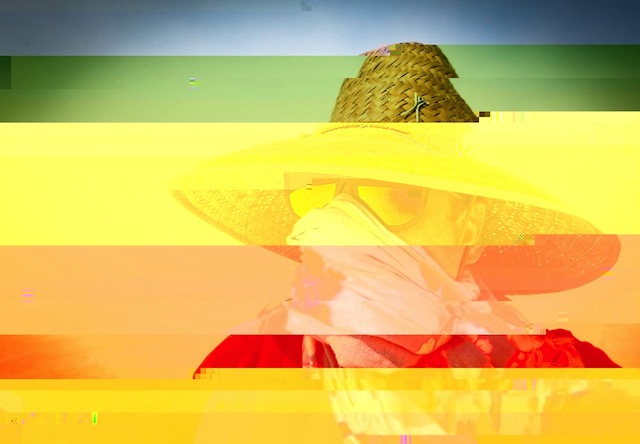 FridayMixtape.com is back!
I apologize for taking Friday Mixtape away from you guys for a few weeks. There was just some bullshit going in my life and I needed to rethink things. I have come to realize that I really enjoy making mixtapes every Friday. Also, I got deluged by emails from people from all over the world who we're genuinely bummed about me shutting things down around here.
Anyway, I'm back for the long haul.
I took the self portrait above at Burning Man 2013 and then ran it through a glitch generator to add some confusing flare.
Have a great weekend folks!
Play Friday Mixtape 201:
Audio clip: Adobe Flash Player (version 9 or above) is required to play this audio clip. Download the latest version here. You also need to have JavaScript enabled in your browser.
Tracklist:
Jolene (slowed down 25 percent) – Dolly Parton
Audio clip: Adobe Flash Player (version 9 or above) is required to play this audio clip. Download the latest version here. You also need to have JavaScript enabled in your browser.

Hypnotize – Love Our Records – Bitmap
Audio clip: Adobe Flash Player (version 9 or above) is required to play this audio clip. Download the latest version here. You also need to have JavaScript enabled in your browser.
Audio clip: Adobe Flash Player (version 9 or above) is required to play this audio clip. Download the latest version here. You also need to have JavaScript enabled in your browser.

Think Of You (RAC Remix) – MS MR
Audio clip: Adobe Flash Player (version 9 or above) is required to play this audio clip. Download the latest version here. You also need to have JavaScript enabled in your browser.
Audio clip: Adobe Flash Player (version 9 or above) is required to play this audio clip. Download the latest version here. You also need to have JavaScript enabled in your browser.
Audio clip: Adobe Flash Player (version 9 or above) is required to play this audio clip. Download the latest version here. You also need to have JavaScript enabled in your browser.
Audio clip: Adobe Flash Player (version 9 or above) is required to play this audio clip. Download the latest version here. You also need to have JavaScript enabled in your browser.

Take Care Of Business (Pilooski Edit) – Nina Simone
Audio clip: Adobe Flash Player (version 9 or above) is required to play this audio clip. Download the latest version here. You also need to have JavaScript enabled in your browser.

Gold (Gold Fields Remix) – Sir Sly
Audio clip: Adobe Flash Player (version 9 or above) is required to play this audio clip. Download the latest version here. You also need to have JavaScript enabled in your browser.

St. Ides Heaven (Elliott Smith Cover) – Goldroom
Audio clip: Adobe Flash Player (version 9 or above) is required to play this audio clip. Download the latest version here. You also need to have JavaScript enabled in your browser.

Triangles (Extended Version) – Thomas Jack ft. Tom Suttor
Audio clip: Adobe Flash Player (version 9 or above) is required to play this audio clip. Download the latest version here. You also need to have JavaScript enabled in your browser.

Adore You Feat. Ofei – Digital Farm Animals
Audio clip: Adobe Flash Player (version 9 or above) is required to play this audio clip. Download the latest version here. You also need to have JavaScript enabled in your browser.
Audio clip: Adobe Flash Player (version 9 or above) is required to play this audio clip. Download the latest version here. You also need to have JavaScript enabled in your browser.
Audio clip: Adobe Flash Player (version 9 or above) is required to play this audio clip. Download the latest version here. You also need to have JavaScript enabled in your browser.

Bow and Arrows – Sean Dee feat. Anna Yvette
Audio clip: Adobe Flash Player (version 9 or above) is required to play this audio clip. Download the latest version here. You also need to have JavaScript enabled in your browser.

JUAN Cristobal – UTS (Under The Sheets) – JUAN Cristobal
Audio clip: Adobe Flash Player (version 9 or above) is required to play this audio clip. Download the latest version here. You also need to have JavaScript enabled in your browser.

Isosine – Anna Kendrick, Kendrick Lamar ft. Drake, Florence and the Machine – Poetic
Audio clip: Adobe Flash Player (version 9 or above) is required to play this audio clip. Download the latest version here. You also need to have JavaScript enabled in your browser.

Blood Bank – Bon Iver FlicFlac Edit
Audio clip: Adobe Flash Player (version 9 or above) is required to play this audio clip. Download the latest version here. You also need to have JavaScript enabled in your browser.
Audio clip: Adobe Flash Player (version 9 or above) is required to play this audio clip. Download the latest version here. You also need to have JavaScript enabled in your browser.
Interested in creating a guest mixtape here on FridayMixtape.com? Please read this first.